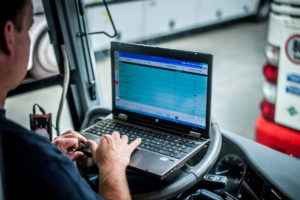 SOR Libchavy provides a wide network of service centres not only in the Czech Republic but also abroad. As a leading Czech bus manufacturer, we focus on customer satisfaction and therefore all authorised service centres have specialised service tools and quality diagnostic equipment that, together with our recommended technical procedures, ensure trouble-free operation and reliability of all our buses.
We provide regular training for authorised service personnel so that they always have the most up-to-date information needed for service procedures. Company employees perform regular inspections of authorised service centres, ensuring the customer's high quality of service.
To find the contact for a service centre, please select a category in the menu on the left.